Choosing Fence Panels | Options for Timber Buildings | How to Install Panel Fencing | Assembling Timber Buildings | How to Guides
A step-by-step guide to installing panel fencing on timber or concrete posts.
String line
Spirit level
Hammer
Grafter or spade
Shovel holer
Tape measure
Saw
Fixings Required
Panel clips
40mm galvanised nails
Step 1
Ensure the area is clear from obstructions such as old fence posts, bushes, or anything that may interfere with the new fence line.
Step 2
Check all underground services. The area must be clear of pipes and cables for at least two feet underground. Erect the string line to mark the fence boundary.
Step 3
Select your concrete or timber post.
Step 4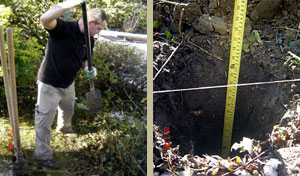 Dig a two foot deep hole and insert post.
Step 5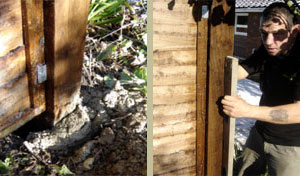 Ensure that the post is the correct height for the fence, allowing for gravel boards if used. Use a spirit level to make sure the post is upright. Put Rapid Set Post Kwik into the hole, add the correct amount of water and mix.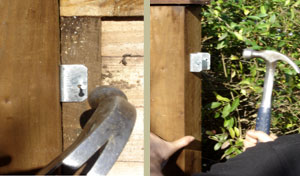 Concrete slotted posts do not require panel clips. For wooden posts attach the panel clips to the posts and then fix the panels to the clips. Keep a spirit level on top of the panel to make sure the fence remains level on top.
Step 7
Repeat steps 4, 5 and 6 until all your panels are installed. The last panel may need to be reduced in width to finish off the gap. This can be done with a handsaw.