We will contact you prior to delivery to check your order and confirm a delivery date.
Please note: Due to exceptional demand delivery of wrought ironwork may take up to 10 weeks and delivery of timber buildings may take up to 20 weeks.
Free Delivery Options
Delivery by road from £10.00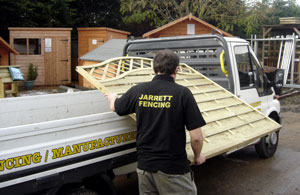 The price for delivery by road is based on your postcode. Add a product to the basket and then enter your postcode to find out what it is for you.
We deliver goods by road using our own fleet of vehicles.
Standard products will normally be delivered the next time we are scheduled to deliver in your area. We will do our best to fit our delivery schedule around your requirements.
We aim to deliver your goods within 30 days. Most orders will be delivered in 3 to 10 days, but this is dependent on your location and current stock availability.
Please note: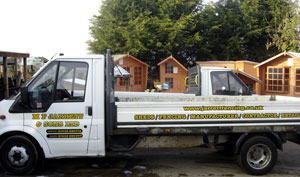 If access to your delivery address is restricted, please let us know in advance.
Our drivers are instructed not to take vehicles off of a hard road surface .
Our drivers will make every effort to deliver the goods as close as possible to the desired destination on your property. If that is not possible due to road surface or other conditions, our drivers are instructed to unload the goods beside, or close to, the vehicle on firm ground.
We only deliver to addresses within the UK.
Do you have to be in when we deliver?
Not necessarily, if you are happy for us to leave the goods. Please note that once the goods have been delivered to your premises, ownership and liabilities arising from ownership are transfered from us to you.
Delivery by courier
For some smaller products, such as pedestrian gates, iron mongery & various fencing accessories, delivery by courier may be cheaper than our standard method of delivery by road, especially if you live a long way from our base in Hertfordshire. If you think this may be the case for you contact us to discuss your needs.
Note
Delivery charges shall not be refunded unless the goods you ordered are delivered damaged or faulty.