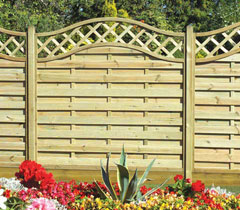 Our 1.8m High St Meloir Panel was £56.99, now only £43.
The St Meloir Panel is made from planed, 'Tanalised', pressure impregnated treated FSC certified timber and finished in a pale green colour, with the latest generation wood preservative.
It is the most popular of all our European range of fence panels and adds elegance to any garden.
In order to protect your fence panels and add years to their life span they should be isolated from the ground by either a timber or concrete gravel board. We also offer a range of timber and concrete slotted posts that will help insulate your panels from damp.