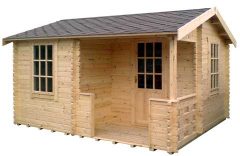 All cabins are constructed with the highest quality heavy-duty timber and glazed with standard horticultural glass.
Timber for cabins
Log Thickness is 19mm, 28mm or 44mm as indicated for each cabin.
Roofs have 45mm x 120mm roof purling supporting 19mm planed tongue and grooved roof boards.
Floors have 45mm x 57mm, tantalised (pressure treated), floor bearers spaced at 400mm centres (as is standard in most houses). They support heavy duty 19mm planed tongue and grooved floorboards.
Features
External doors are fitted with mortice locks as standard.
Roofs are fitted with green mineral felt as standard. Decorative felt shingle roofing is available as an option, please contact us for information and price.
Wood Treatment
Apart from the tantalised (pressure treated) floor bearers, all cabins are supplied completely untreated. It is strongly recommended that the buildings are treated inside and out with a high quality spirit based preservative within 14 days of installation, weather permitting.